Farm Camp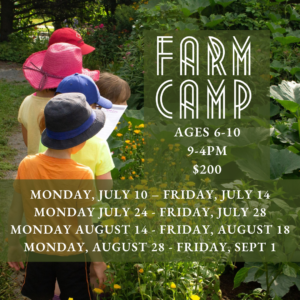 Farm Camp is sold out for 2023! If you are interested in placing your child on a waitlist, please contact us at hello@coleharbourfarmmuseum.ca. Thank you!
Join us for our Farm Camp Program! We will spend every day outdoors (9am – 4pm), exploring the farmland, wetland, and forest at The Farm. Children will have the chance to participate in hands-on activities, arts and crafts, games, and even help out with animal care!
The 2023 dates for Farm Camp are as follows:
Monday, July 10 – Friday, July 14
Monday July 24 – Friday, July 28
Monday August 14 – Friday, August 18
Monday, August 28 – Friday, Sept 1
Each day runs from 9am to 4pm. Early drop-off and late pick-up is available. Please see FAQ below.
Farm Camp FAQ
Farm Camp registration opens on Wednesday, March 1st, at Noon! For those of you who are interested, but wanted to know a bit more about it, we have decided to create an FAQ. Remember, if you have any other questions, just let us know!
What do kids do at Farm Camp?
Lots of things! Farm Camp is a fully outdoor camp, taking place on the grounds of the Cole Harbour Heritage Farm Museum. Our program offers exciting games, crafts, and activities in a fun and safe environment. Campers will experience the traditional camp experiences: arts & crafts, sports and games, and also activities such as gardening, animal care, exploration, nature, culture, and farming heritage. Farm Camp will provide your child(ren) the opportunity to meet new friends and get active. Each day will consist of a variety of different activities.
How old does my child have to be to participate in Farm Camp?
In order to participate in Farm Camp, your child must be at least 6 years old by the first day of camp, AND have completed Grade Primary. The upper age limit is 10-years-old. Activities range from games, arts and crafts, age-appropriate animal care, history-related activities, and garden & nature exploration, and we have found the age range of 6 to 10 works the best in allowing everyone to participate and have fun.
How do I register my child for camp?
Registration opens on Wednesday, March 1st, at noon, and will be done through our website (https://coleharbourfarmmuseum.ca/). You will pay the fee for farm camp ($200 per camper for a week) through our online shop, and we will send you a registration form via e-mail. After this, you will have two weeks to return the registration form to us.
How many spaces are available in each camp?
There are 12 spaces available for each week of Farm Camp.
Do you offer early drop-off or late pick-up?
Yes! Our early drop-off is 8am, and our late pick-up is 5pm. The fee for early drop-off/late pick-up is $25 for the whole week.
What if I need to cancel my child's registration?
If you cancel on or before three weeks before the start of camp, we will refund your registration fee less a $25 administration fee. If you cancel less than three weeks before the start of camp, we will be unable to refund your registration fee.
Do I have to provide my camper with lunches and snacks?
Yes! Parents will provide all lunches and snacks for their campers. We will have one activity where the campers will churn butter and eat it with biscuits, and they will have the opportunity to taste fresh herbs and vegetables while in the garden, so please let us know if there are any allergies or dietary restrictions we should be aware of. Campers will not be permitted to make purchases from the tearoom or gift shop while they are attending camp. If you and your camper wish to make purchases from the tearoom or gift shop, we hope you will return another time.