Garden Buds
Our free registration is now open for Garden Buds. Program capacity is 15 participants.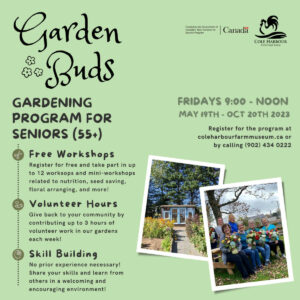 Garden Buds is a gardening volunteer program for seniors (55+),  hosted by The Cole Harbour Heritage Farm Museum and fully funded by the Government of Canada's New Horizons for Seniors Program.
Garden Buds encourages participants to connect with like-minded individuals through volunteering and skill sharing in the gardens at our community hub in Cole Harbour. This program is completely free, but does require registration to participate.
The program will run for approximately 20 weeks between May 19th-October 20th 2023, on Friday Mornings 9:00am-12:00pm. 
Ergonomic gardening tools and equipment, as well as gardening gloves, and any other necessary materials will be provided. Healthy snacks and refreshments will be provided by the Rose & Kettle Tearoom (located at The Cole Harbour Heritage Farm).
Please fill out the registration form if you are interested in joining our program. Registration will be accepted anytime between May-October, so long as spaces remain. 
Garden Buds FAQ
I've never gardened before… can I still register for the program?
Yes! We welcome participants with any level of gardening experience, including complete beginners. Our staff and volunteer team would agree that The Farm's gardens are a wonderful place to learn.
Why do I need to register if the program is free?
As a non-profit organization with limited staff, our capacity will only allow us to open the Garden Buds program to 15 participants. Registration ensures we do not take on more participants than we can accommodate. It also allows us to collect important information about you, including your contact information, and dietary restrictions for snacks that will be provided.
You can register for the program before or after the start date of May 19th, so long as spaces remain.
Will there be a waitlist if the program is full?
Yes! There will be a waitlist for the program. If any participants are not able to, or chose not to continue with the program, participants on the waitlist will be contacted in the order that their registrations were received.
Do I need to participate every week?
No. We know life happens, and especially in the summer time we don't expect participants to be present every week of the program. We do want our participants to get as much out of the program as possible, and build a better understanding of gardening and the role it plays in our physical & mental health.
If other interested participants are waiting on the waitlist and you have missed 3 or more sessions in a row, we will kindly ask that you give up your space for someone else to join the program.
Is this program accessible for people with disabilities?
Partially. We are working to make our site and public programming as accessible as possible. Here are some considerations we have made for Garden Buds:
Visual: Printed materials and emails will be printed in large, easy-to-read fonts. Participants may choose to be notified of news and updates via phone call.
Auditory: Instruction and workshops will always be delivered verbally, in a small, hearing accessible venue, or in close proximity outdoors.
Physical accessibility is our greatest accessibility challenge as a 200+ year old farm site. We have recently undergone an accessibility audit, and will be working on improving pathways and ramps, and constructing an accessible washroom in 2024. We hope to be able to open up our program to persons with physical accessibility needs next summer.
Please advise us in your registration if you have a disability that may impact your experience and we can discuss how we can better assist you to get the most out of this program.
Why do I need to be over the age of 55?
The Garden Buds program is made possible by a federal grant from the Government of Canada's New Horizons for Seniors Program. The purpose of these federal grants is to make a difference in the lives of seniors and their communities.
The age group of seniors can be subjectively interpreted and defined. To be able to open our program to a larger age demographic, we have chosen to define seniors as those over the age of 55.
If you are under the age of 55 and eager to get involved with our gardens here at The Farm, we urge you to fill out an application to join our volunteer team! This form can be found under "Get Involved".