Wednesday Pop-up Market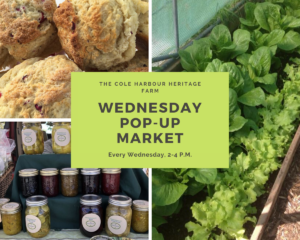 Starting this Wednesday, June 17th, we will be hosting our weekly Wednesday pop-up market once again this Season from 2-4 p.m. We will have a new vendor join us this year, as well as our usual crew.
Our delicious cream tea will also be available (outdoors) from 2-4 p.m.
Vendor List:
Skeldale Farms (preserves, jams and relishes, transplants, eggs)
Snails Pace Gardens (greens, rhubarb, basil transplants)
Kathy MacPherson (baked goods)
Mary-Ann LaPierre (local produce, eggs)
Farm Table (Preserves, Scones, Pies, Herb Bundles)
See you on Wednesday!