The Rose & Kettle Tea Room
Now OPEN for the 2023 season! The Rose & Kettle welcomes you Wednesday to Sunday, 11am to 3pm!

Inspired by the beautiful Victorian verandah of the Harris House and its plentiful roses, the Rose and Kettle Tearoom has been the heart of the Farm for over 30 years.  The verandah was transformed into a tearoom in 1990, and has evolved over the years with the community it serves. Orders can be placed at the cafe-style window, and indoor and outdoor seating are available on a first come, first served basis. Our new interior stylings have been made by our on-site blacksmith, while our farmhouse-style tables have been built  by a local craftsman, and are adorned throughout the summer with freshly cut flowers from our gardens. 
The Rose & Kettle is a warm and welcoming spot where neighbors and visitors gather to enjoy a delicious homemade meal, or indulge in a sweet treat. The cuisine is a blend of old Nova Scotian favorites, and flavorful delights from around the world, reflective of the diversity of our seaside province. Everything is made in small batches, from scratch, and served on vintage china dishes. Delicious and healthy soups, sandwiches, salads, and other specials are offered on a seasonal, daily-changing menu. Our culinary artists also prepare a selection of cakes, pastries, cookies, and even homemade ice cream! 
Cream tea, a well-loved and traditional offering, is always available, as are house-made espresso beverages, coffee, and many flavorings of tea. Ingredients are sourced from local farmers, butchers, fish markets, bakeries, and The Farm's own gardens whenever possible. Foraged and unique ingredients – such as lilacs, haskap berries, dandelions, and nettles – make the Rose & Kettle's offerings especially memorable. 
Gift certificates are available. We accept debit, mastercard and visa, as well as cash. All proceeds from the Tearoom and Gift Shop go back into running the museum.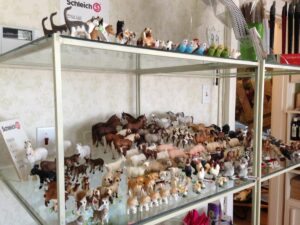 The Museum gift shop features the handmade works of local craftspeople and artisans, a "New to You" selection of collectibles donated by members and community, a sweet selection of traditional and Canadian-made confection and an array of garden and animal souvenirs for the children. Of note is our extensive collection of farm animal figurines made by the world famous Schleich of Germany, great for kids and collectors alike!