The Rose & Kettle Tea Room
The Rose and Kettle Tearoom has re-opened for indoor dining! Tearoom hours are 11am to 3pm, Wednesday through Sunday. Please note, we have moved to a café model and will continue to provide seating both indoors and out, as such we are no longer accepting reservations.
Inspired by the beautiful Victorian verandah of the Harris House and its plentiful roses, the Rose and Kettle Tearoom has been the heart of the Farm for over 20 years.  The verandah was transformed into a tearoom in 1990, largely through the efforts of hard-working volunteers.  All proceeds from the tearoom and gift shop go back into running the museum.   Just like the farm kitchen of old, the Rose & Kettle is a warm and welcoming spot; the kettle is always on and delicious and nostalgic smells fill the air.  Neighbours gather for a natter and a home cooked meal.  Tea is made in a pre-heated crockery pot and covered with hand-made tea cosy.  Most of the dishes have been donated.  The menu is a blend of old English influences, Nova Scotia favourites, and Cole Harbour kitchens, all created from scratch and using the Farm garden's own produce wherever possible.
Gift certificates are available. We accept debit, mastercard and visa, as well as cash.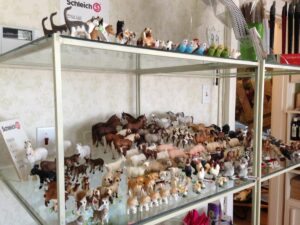 The Museum gift shop features the handmade works of local craftspeople and artisans, a "New to You" selection of collectibles donated by members and community, a sweet selection of traditional and Canadian-made confection and an array of garden and animal souvenirs for the children. Of note is our extensive collection of farm animal figurines made by the world famous Schleich of Germany, great for kids and collectors alike!