Farm Camp 2020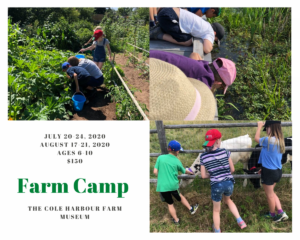 While we expect our season to look quite a bit different this year, we are continuing with plans to offer two Farm Camps this summer. The first will be held the week of July 20-24 and the second, August 17-21. Both will be limited to children ages 6-10.
Children will have the chance to participate in garden and farm-related activities, arts and crafts, heritage-related activities, games, and even help out with animal care! It's a fun-filled week, and we are excited to be offering it again this year.
The camps will cost $150 per child, and will run from 9am to 4pm each day during their respective weeks. Early drop-off and late pick-up will be available for an extra fee.
Registration will open May 1st. Please contact hello@coleharbourfarmmuseum.ca for further details.