Valentine's Treat Box Fundraiser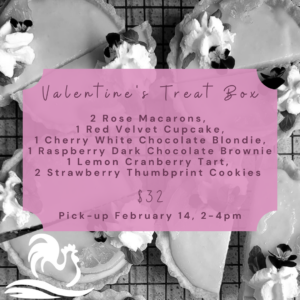 Did you know that all of our treats and baked goods are made with 100% butter? The Rose & Kettle uses quality ingredients to produce beautiful and delicious treats for our supporters. This collection of generous, quality desserts will not disappoint the Valentine in your life!
The Cole Harbour Heritage Farm is a charity organization that relies on revenue generated through fundraisers such as this, so that we may continue to open our doors year after year and provide heritage, culture, and green spaces to the community of Cole Harbour and beyond.
Your support allows us to bring the Farm to the life!
Please consider sharing this post or purchasing a treat box today:
Pick-up:  Tuesday, February 14th, 2-4pm at The Farm
Thank you, Farm Friends!